Last Updated on June 15, 2023 by keno
An indoor rabbit enclosure with an ideal floor is essential when you want your bunny to be content with its living space. The right enclosure flooring makes it easier for your rabbit to hop around and is also easier to clean. In addition, it's much more comfortable for them to live in. A standard indoor rabbit hutch size should be at least 6 ft. x 2 ft. x 2 ft.
The rule of thumb is to avoid hard surfaces or those without any insulation from the cold. The enclosure's floor should be rabbit-proof and also give your rabbit traction to allow them to explore or hop around with ease. This article looks at some of the best indoor rabbit enclosures with floors worth buying.
What's the best cage/hutch for indoor rabbits?
A typically indoor rabbit cage should be spacious enough to accommodate a rabbit's food/water bowl and litter tray. In other words, a bunny's cage or hutch should be at least four times its size. Dwarf breeds weighing an average of 2 to 5 pounds, should have a cage/hutch size measuring at least 4 ft. x 2 ft. x 2 ft., while a medium-sized 6 to 10-pound bunny's hutch should be 6 ft. x 2 ft. x 2 ft.
Giant rabbits weighing 15 pounds on average should have a cage that measures 6 ft. lengthwise x 2 ft. widthwise x 3 ft. heightwise. In addition, it should have soft flooring that's easier to clean and comfortable enough for your rabbits, as we shall discuss more in this article.
What kind of flooring do you use for rabbits?
An indoor rabbit enclosure with a floor should essentially provide your rabbits with a conducive and comfortable environment to live in. Below are some of the factors you need to consider when selecting an indoor rabbit flooring regardless of whether it's for their hutch, cage, or their entire accessible space.
An ideal flooring for rabbits should be made of toxic-free material with no chemicals. In other words, it should contain organic material which is pet friendly.
A flooring system that easily absorbs rabbit pee or water spills might just come in handy. For hygiene purposes, a rabbit needs to stay in a clean and dry habitat. In addition, it's also easier to clean indoor flooring with a good absorption rate.
Flooring for an indoor rabbit enclosure should also be biodegradable, compostable, and non-toxic to the environment. Other than improving your pet's quality of life, it should also be environmentally friendly.
An indoor enclosure flooring that is capable of odor control is convenient especially if your rabbit isn't litter trained. In short, it shouldn't trap odor easily just the way hardwood or tile flooring doesn't.
What do you put on the floor of an indoor rabbit cage?
An indoor rabbit enclosure floor needs to be comfortable for your pet's feet for easier movement. It should also be easier to clean in case your bunnies litter their cage accidentally. An indoor rabbit cage floor should also be non-toxic, besides being spill and chew-resistant. Below are some of the best indoor rabbit flooring to choose from, each one with its pros and cons.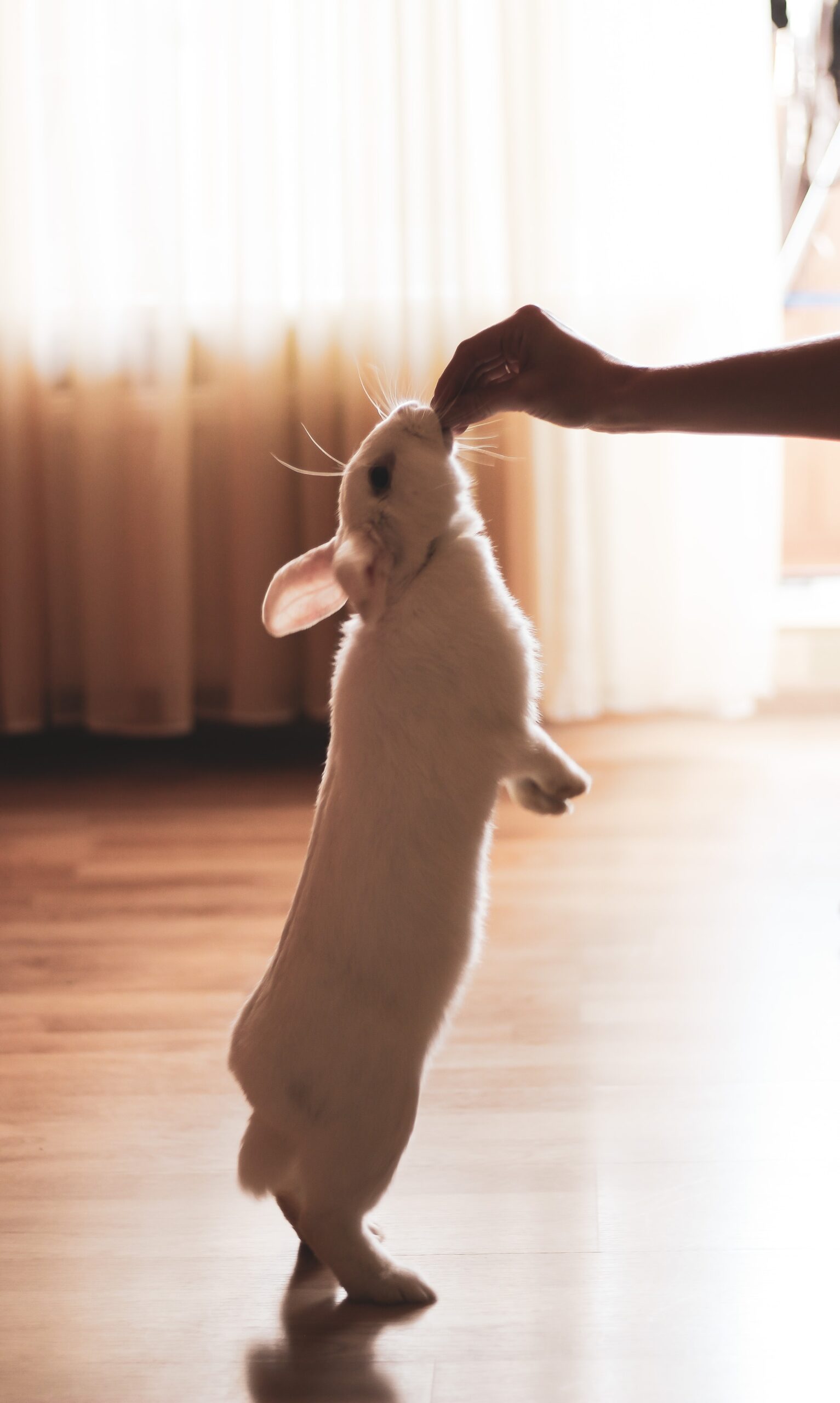 This particular flooring is not only ideal for indoor rabbit cages, but it's also a great choice for their hutches and pens. This is because it gives your rabbit's feet a grip when they're playing, jumping, or running around.
Vinyl flooring is easier to clean up and is also among the cheapest flooring for covering a large indoor enclosure. In short, the advantages of vinyl flooring are that it's affordable, versatile/easier to clean and also install. The downside is when compared to wire flooring, vinyl isn't convenient for free-range rabbits that aren't litter trained.
Pet pads are another indoor rabbit flooring that's also recommended for your pets. They're also a great pee or liquid absorbent and it's also safe when ingested. Unfortunately, pet pads unlike other indoor rabbit flooring need to be changed constantly.
Rugs and carpets are not only great for indoor rabbit cages, but they're also ideal for free-roaming bunnies. This particular flooring is comfortable as it gives your pet traction, therefore, preventing any chances of them slipping or sliding. Fiber rugs or carpets are ideal for rabbits since they're normally safe when accidentally nibbled.
The pros of carpets and rugs are that they're normally durable, inexpensive, and provide grip for your rabbit's feet. The only disadvantage is that this particular flooring is difficult to clean when wet or stained.
Wood flooring is also recommended for indoor rabbit cages. Before choosing, always ensure that the material is untreated. The main advantage of this type of indoor rabbit cage floor is that it's easier to install and provides great comfort for bunnies. The main downside of wood flooring material is that it can easily get chewed on and it's also not good with rabbit pee. Wood normally absorbs urine, leaving the cage with a pungent smell in most cases.
This particular indoor rabbit flooring is a great choice for rabbits that have a habit of chewing stuff. Untreated straw or grass mats are ideal when it comes to taming this destructive problem besides providing your bunnies with traction and comfort. However, it's always advisable to dispose of straw or grass mats that are wet or have urine to prevent molds from forming.
The advantage of this particular type of flooring is that it's comfortable and safe when ingested. The main disadvantage of straws or grass mats is that it's not durable and you need to change them regularly.
Plastic flooring is another common option for indoor cages. It's affordable and also easy to clean. For traction always go for the one with foot-resting holes. One disadvantage of plastic flooring is that it's usually toxic when ingested.
Wire flooring is another ideal option for an indoor rabbit cage. When it comes to cage hygiene, it's convenient for rabbits that haven't been litter trained. Wire flooring is essentially the only indoor rabbit cage material that's easier to clean since all the litter goes through the surface.
On the flip side, critics are right to say that this particular flooring is uncomfortable for a bunny's feet. However, you can mitigate this by covering a section of the wired floor with a flat solid surface. The downside of this particular flooring is that it tends to cause sore hocks in the long run.
Should a rabbit cage be on the floor?
Rabbits normally don't feel comfortable on smooth or slippery floor surfaces. It's therefore advisable to consider adding a fleece pad, grass mat, or a pure wool carpet with a light foam backing.
Is it cruel to keep a rabbit in a cage indoors?
Keeping your rabbits in an indoor cage isn't cruel, however, how long you keep your bunny in a cage matters a lot. Since bunnies are social animals, staying in a cage for over 12 hours is considered cruel and will often stress them out.
What do you line the bottom of a rabbit cage with?
Rabbits prefer a soft, comfortable, and non-toxic bed or bedding since they often nibble on it. Some of the recommended bedding materials to line the bottom of their cage with include hay, Aspen, cellulose, pellets, fleece towels, and shredded paper.
Conclusion
An ideal indoor rabbit enclosure with a floor we highly recommend is one with Vinyl material. It's comfortable and also a great choice for giving your rabbits traction. Finally, compared to the other flooring materials, it's quite affordable in terms of covering large rabbit enclosures.
Our posts have affiliate links that enable us to earn a small commission if you purchase any product at no extra cost; thanks.